What Sets The Big Red Barn Apart?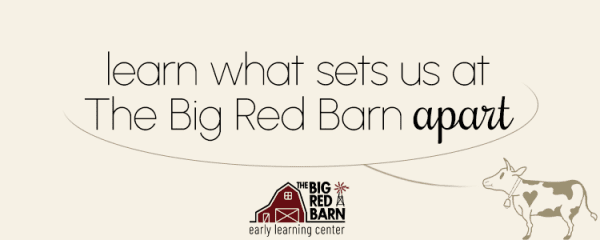 We're The Big Red Barn, a new Preschool, or Early Learning Center, in Lakewood, CO! We understand you have a lot of choices when it comes to your child's early education, and that's why we set out to be different from the get-go. In this brief article, we'll run you through some of the key things that set the The Big Red Barn apart from other preschools, and how those things will benefit your child and your family.
We Let Our Kids Explore, Have Fun, and Get Dirty
Here at the Barn, we believe in letting children be children — it's at the core of our philosophy. And as all parents know, if there's anything kids love to do, it's exploring! We believe children learn best when they're allowed to take in their world on their own accord, and we encourage our kids to engage in exploration at any chance they get.
And if exploration means finding out what happens when you jump into a puddle of mud, so be it! We don't discourage our children from getting messy, as we believe that early learning is at its most effective when it's hands-on, dynamic, and most importantly, fun. At The Big Red Barn, we feel that a child having fun is a child that's much more likely to commit new knowledge to memory, so we put a high priority on having our classrooms and activities be fun and engaging. We allow our kids to make mistakes, let them learn by doing, and encourage them discover more and more new things about their world at every chance we get.
A Conscious Approach to Learning
At The Big Red Barn, we incorporate a program known as Frog Street, which includes curricula for all ages of early learners, from infants to Pre-K'ers. Frog Street focuses on four main areas of early development: early brain development, intentional instruction, developmental learning domains, and social emotional learning. It also incorporates parents into a child's curriculum, for a learning experience that effortlessly extends beyond the classroom and doesn't feel like a chore!
We also incorporate Dr. Becky A. Bailey's Conscious Discipline program, part of the Frog Street package, in which teachers first get in touch with their own self-regulation and self-control in order to more effectively teach and ingrain it into their students. Conscious Discipline connects the head to the heart through fostering healthy relationships, and by putting an emphasis on safety, interpersonal connections, and problem solving.
Learn more about Frog Street by clicking here, and about Conscious Discipline by visiting Dr. Becky A. Bailey's website here.
A Smaller, More Personal Environment
We're a smaller, family-owned Early Learning Center that puts a high priority on individualized learning. Our small size allows us to have a better-than-average student to teacher ratio, as little as one teacher for every four students — as opposed to the Colorado standard of one teacher for every seven students. This allows each student to have far more one-on-one time with the teacher than other preschools, which may have a profound effect on their overall learning. No class size ever exceeds 13 kids, so our great teacher-student ratios are guaranteed.
And just as we support our children at the Barn, we also support our teachers. Great teaching starts with great teachers, and so we put forth a strong effort to make our teacher support network as strong as possible.
A Tight-Knit Community
At our new preschool, we believe finding a core community is very important for both kids and their families alike. We do our best to build strong bonds and connections with kids and their families, and in so doing create a community to support and uplift our children. It takes a village, after all! The Big Red Barn's founder, Ashley Harris, started our new preschool with the goal of creating an environment that puts learning and growth first. You can read Ashley's story here.