Toddlers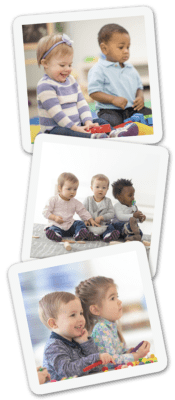 toddlers
ages 18 to 36 months
Embedding their roots.
our journey —
Now that we have planted the seeds, it's time for our kiddos to begin to grow their own roots.
Learning evolves best when channeled through relationships and responsive caregiving, which is why we will continue to place a high priority on relationship building. As a result, we will begin to watch our children develop and grow into their individual personalities. In our Toddler Program, we will balance routine and creativity within the classroom, creating an ideal space for young explorers to continue their educational journey.
our toddler curriculum
Nurturing Curiosity Through Exploration
During our 52-week course, children will travel through a world of sensory exploration that will further challenge each child to strive towards new milestones. No education is a one-size-fits-all, which is why we will meet each child where they are developmentally to help them achieve specific, individualized goals. Our Toddler Program encourages children to problem solve, creating foundational skills for lifelong learning.
Find out more about
Frog Street for Toddlers!
Watch this short video to learn about what makes Frog Street for toddler education unique, and why we use it as standard curriculum at our Academy.
come visit us!
We'd love to see your child join us here at The Big Red Barn, and we'd love to start getting to know you and your family! If you are considering enrolling your child into our academy, please click the button below to set up a tour and get in touch with our amazing staff. We look forward to hearing from you soon!