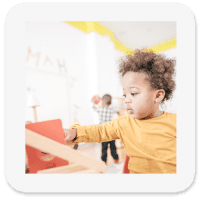 Daycare and preschool… two words that parents of young children know all too well! For many these two words are synonymous, but the truth is that there are several key differences between the two. When comparing daycare vs preschool, parents should keep in mind that while they are in many ways very similar — they'll both keep your kid happy and occupied during the day — your average daycare will differ from your average preschool in ways you may find valuable to know! If you're a confused parent, wondering whether daycare or preschool is better for your child, we're here to help: these are four of the biggest differences between daycares and preschools.
Age Groups
Parents often find that one of the biggest differences between self-described daycares and preschools is the age-range of the kids they admit into their facility. Daycares will typically have a broader range as far as their children's ages go, ranging from infants to 6-year-olds. Contrast this with the average preschool, which tends to focus on kids who are within a year or two of kindergarten, say ages 3 and up. This isn't a universal rule however, but generally speaking, preschools will hone in on the children who have their foundational learning skills either fully developed or nearly developed, for reasons that we'll dive into next.
At The Big Red Barn, we accept kids of all ages, from 6 weeks to 6 years old! We have the facilities and staff necessary to cater to all ages and abilities, and to provide a healthy learning and exploration environment for all kiddos.
Educational Goals
A big component of the daycare vs preschool debate is the nature of the childcare being provided. It's widely agreed upon that the average daycare's biggest aim is to provide a safe, guided, and healthy space for children to play and interact with other children. This rationale goes hand-in-hand with the fact that daycares skew more toward the younger kiddos, as general supervision and guidance is a more popular choice among parents for their 2-and-unders. Conversely, preschools tend to focus more on kindergarten preparedness, which is why the tend to skew more toward the age demographic where the foundations of learning are already developed. This is where the "pre-" in preschool comes from — preschools are your child's school-before-school! Therefore, preschools will typically have a curriculum or teaching regimen to help guide their kids toward readiness for kindergarten — their first step into the big-kid school system.
At The Big Red Barn, we incorporate a curriculum in every age group, one that not only prepares kids for school and constantly drives them toward new milestones, but feels like play and helps them build healthy connections with their peers and teachers! In this way we blend both play and learning in a way that provides our kids with the best of both worlds.
Structure
You can think of daycare more as a babysitter, when contrasted to a preschool. Daycares will, of course, watch over and take good care of your children, but may do so without a strict, or as strict of a structure than a preschool might have. Like a babysitter, a daycare may, for instance, provide a watchful eye as your kid engages in play or independent activity, taking breaks for meals, diaper changes, etc. A preschool, however, will typically operate more like a school with a set schedule, subject-based activities at pre-determined times, and a more rigid routine to help set them up for success in kindergarten.
At The Big Red Barn, we believe in the power of routine and it's ability to eliminate uncertainty and confusion in young minds, so that they can better focus on the important things — like friend-making, exploring their world, and real learning! We have schedules at all age ranges, with structure during each time allotment getting more advanced as your child gets older.
The Similarities
If you're in need of a reliable source of supervision for your child, regardless of structure, educational approach and so on, you may find that either type of center suits your needs. Both a daycare and a preschool will provide your family with a safe space for your children to play and grow, and to work toward milestones. Daycares and preschools vary of course, just as individual daycares and preschools will have their own variations, but when it comes to an overarching goal, both types of center broadly have the same goal in mind!
What About Preschools vs Early Learning Centers?
As an Early Learning Center ourselves, we here at The Big Red Barn have had parents inquire as to what the differences between a preschool and an ELC are. The key difference is that ELCs focus more on guided play and exploration, as well as overall development at every stage. Where a preschool might place its biggest emphasis on that aforementioned kindergarten readiness, at the Barn, we emphasize learning through play and the acquisition of new experiences — in addition to kindergarten readiness once they reach the right age bracket!
You can learn more about our teaching philosophy here, and feel free to contact The Big Red Barn about your childcare needs here.