Kallie Bales | Lead Toddler Teacher Hey y'all! I just recently moved to Colorado from Arkansas. I've worked in Early Childhood for about 5 years. I have two nieces and two nephews who completely fill my heart and five cousins who I've helped take care of while growing up and they mean absolutely everything to me! Helping raise them, made me realize I wanted to work in Early Childhood Education. My love for children, and passion to teach has brought out a light in me and truly makes me believe that this is what I am supposed to be doing. Being able to watch children learn about the world around them and become their own person warms my heart so much!
I have two dogs, a six month old Boxer mix named Peanut, a five year old small dog named Kristie, and a kitten who is six months old named Toots. I enjoy spending my time with them, watching shows and documentaries, and exploring Colorado. I am also obsessed with dinosaurs (super excited about all the dinosaur and fossil exhibits here in CO)!
Toddlers are one of my favorite age groups! This is the stage where they learn more independence, learning skills, thinking, social and emotional concepts that help them explore their new world and make sense of it! This age is also so rewarding as you get to watch them become their own little person, get excited about learning, and reach exciting new developmental milestones! I am more than excited to help teach your little ones to learn and grow through everyday experiences such as physical play, outside play, and social play!
A quote that I think about a lot is "The whole purpose of education is to turn mirrors into windows" - Sydney J Harris.
I am super excited to work with a team who is as eager and committed to ECE as I am! I cannot wait to meet you and your littles!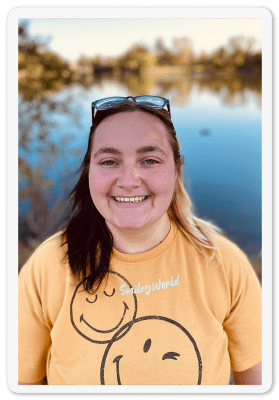 kallie bales
lead toddler teacher